【Lee Gardens Area transformed by gLEEful rooftop music】
Ever had a bird's eye view of Lee Gardens area? You can get one of the best spots from Hysan Place on Kai Chiu Road, Henry House on Yun Ping Road, or Lee Gardens One on Lan Fong Road. One peculiar view is that of Pak Sha Road, where old tenements are enveloped by glitzy high-rises. In the past these rooftops were filled with aerial antennas and potted plants, but now the scenery looks quite different.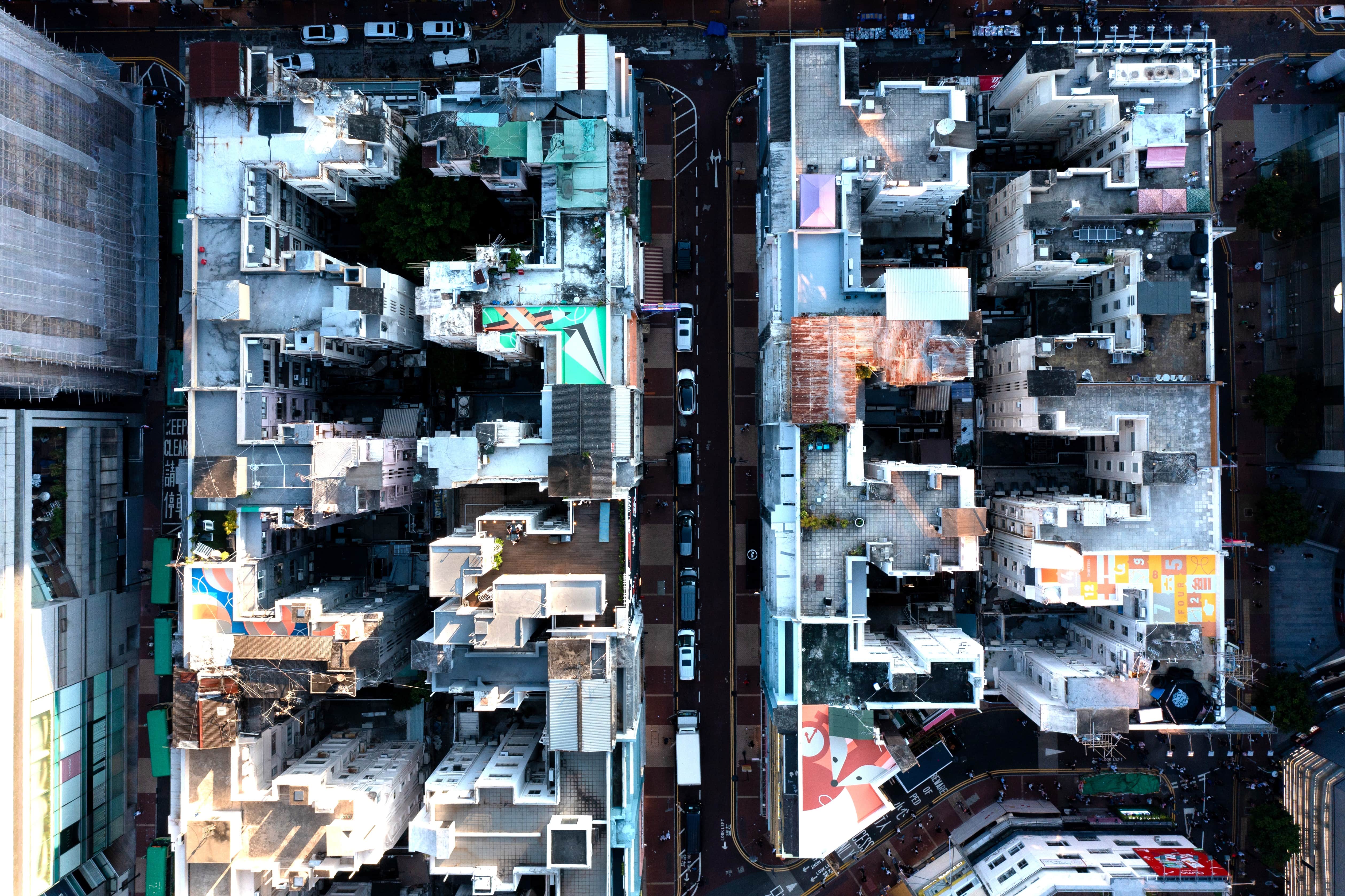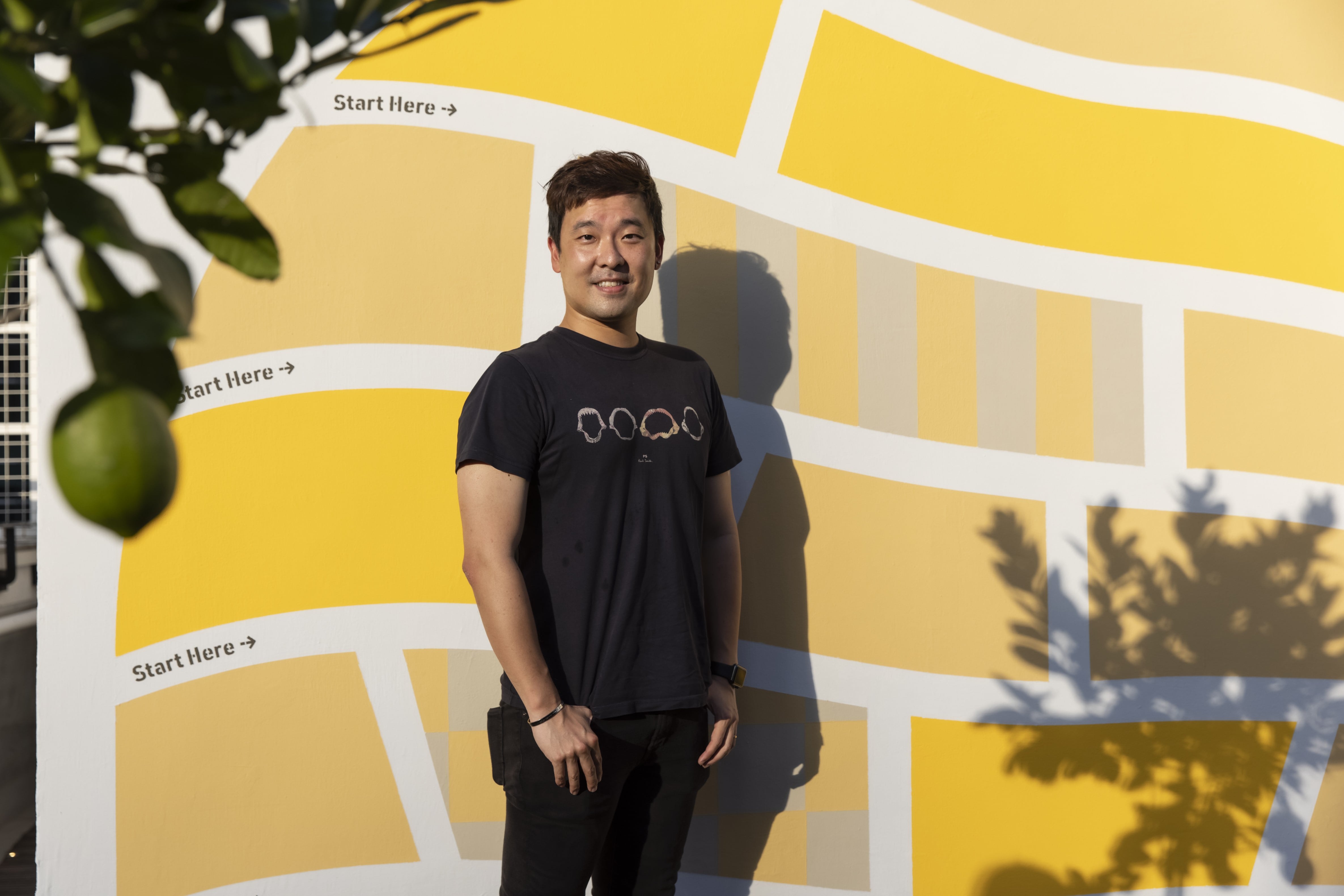 【Rooftops as cityscape】
For Alan Cheung, founder and architect of One Bite Design Studio, rooftops are an oft-neglected space in Hong Kong.
"Architects call the rooftop the fifth façade, but it is a space that is very seldom used. Rooftops in new buildings are usually not open to the public as they are used as mechanical rooms, whereas in older buildings rooftops are just abandoned." Alan has once turned a rooftop into a sports arena. The project made him realise there is always a need for space in the neighbourhood. As long as facilities are improved, people will use it.

"Placemaking is often translated into Chinese as community building. But I prefer the original idea of 'curating a place' because a place connects people." To Alan, placemaking is also part of the sustainable development.
Not everyone has access to the rooftops at Lee Gardens area but for people who work, live or shop there, the views of the rooftops have become part of their lives. "This is a prestigious and well developed area but all you could see are boring, grey rooftops." Earlier this year, his team placed a giant QR code on one of the rooftops asking people "what do you want to see in this community?". Most of the replies were related to desire for relaxation facilities. But what really piqued Alan's interest was that a lot of people remarked that they wanted a moment to refresh and something playful.
"What makes something interesting? It could be different depending on your age. So we started to look into our own rooftop experiences," he said.
There were once rooftop schools back in the 50s and 60s. Alan also has fond memories of playing in rooftops as a kid. So Alan's team came up with the idea of traditional children's games like Hopscotch on rooftops of Lee Gardens Area's tenements. These images would bring back old memories and appeal to those who are now important stakeholders in the Lee Gardens area community.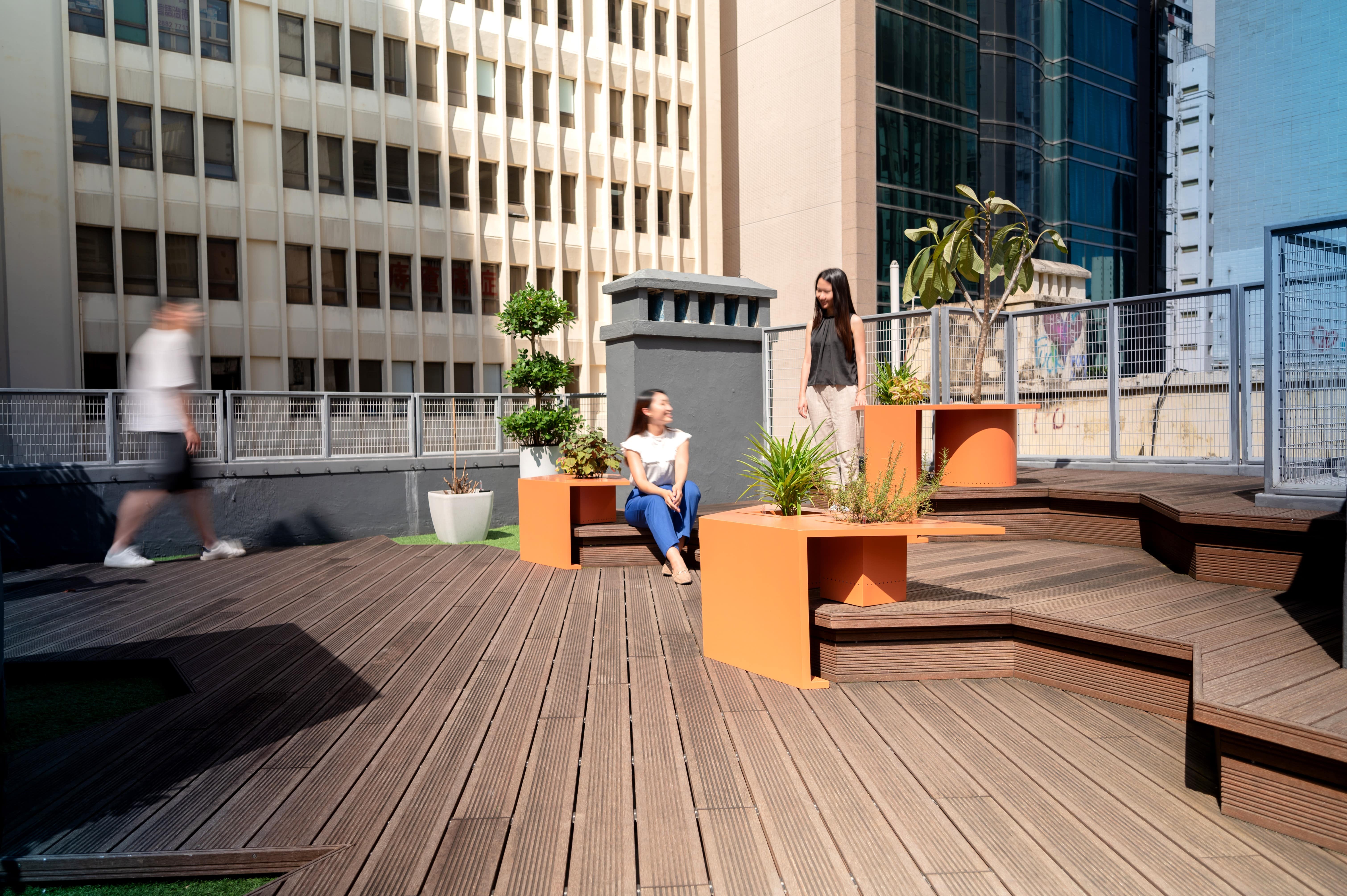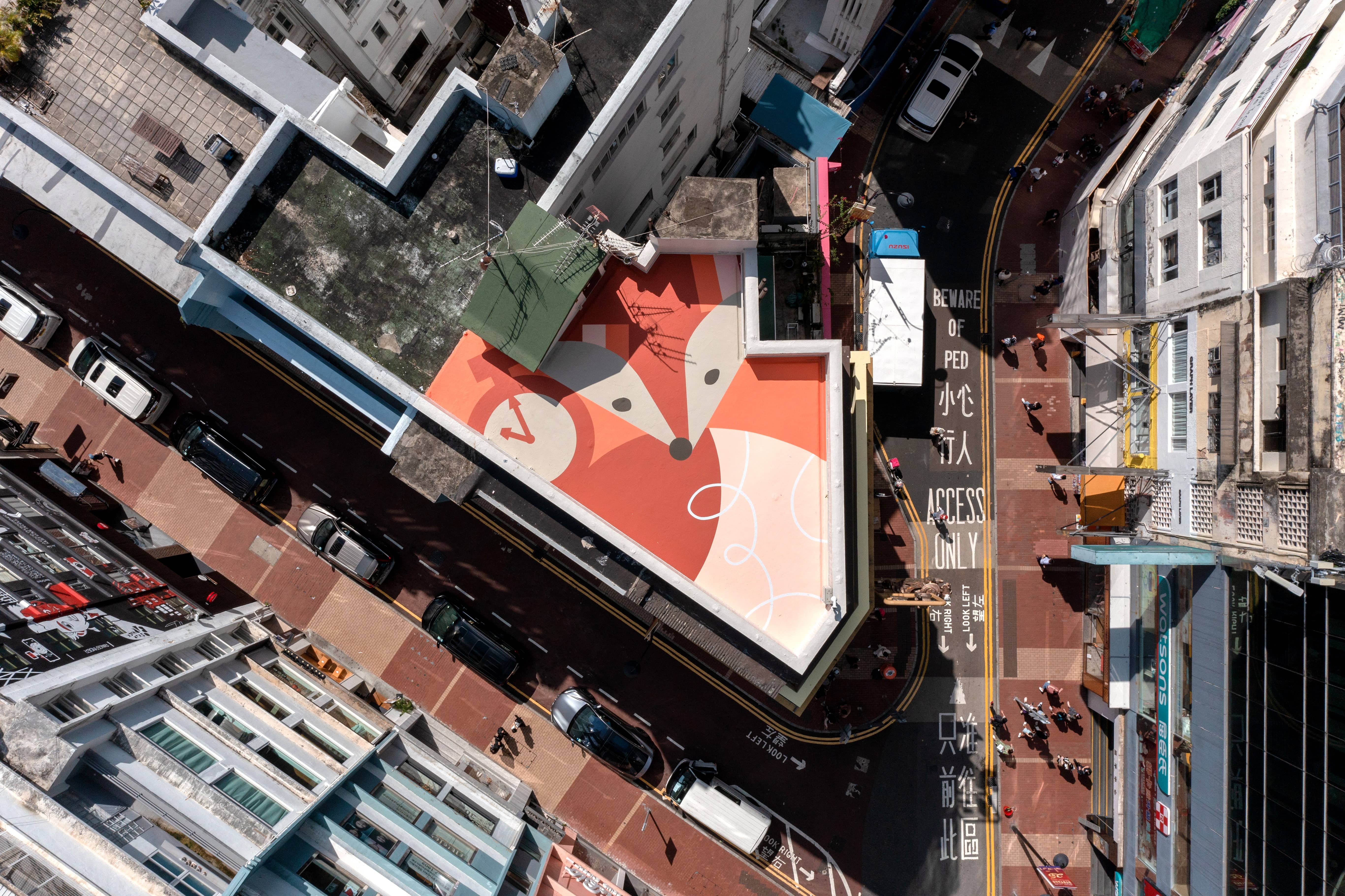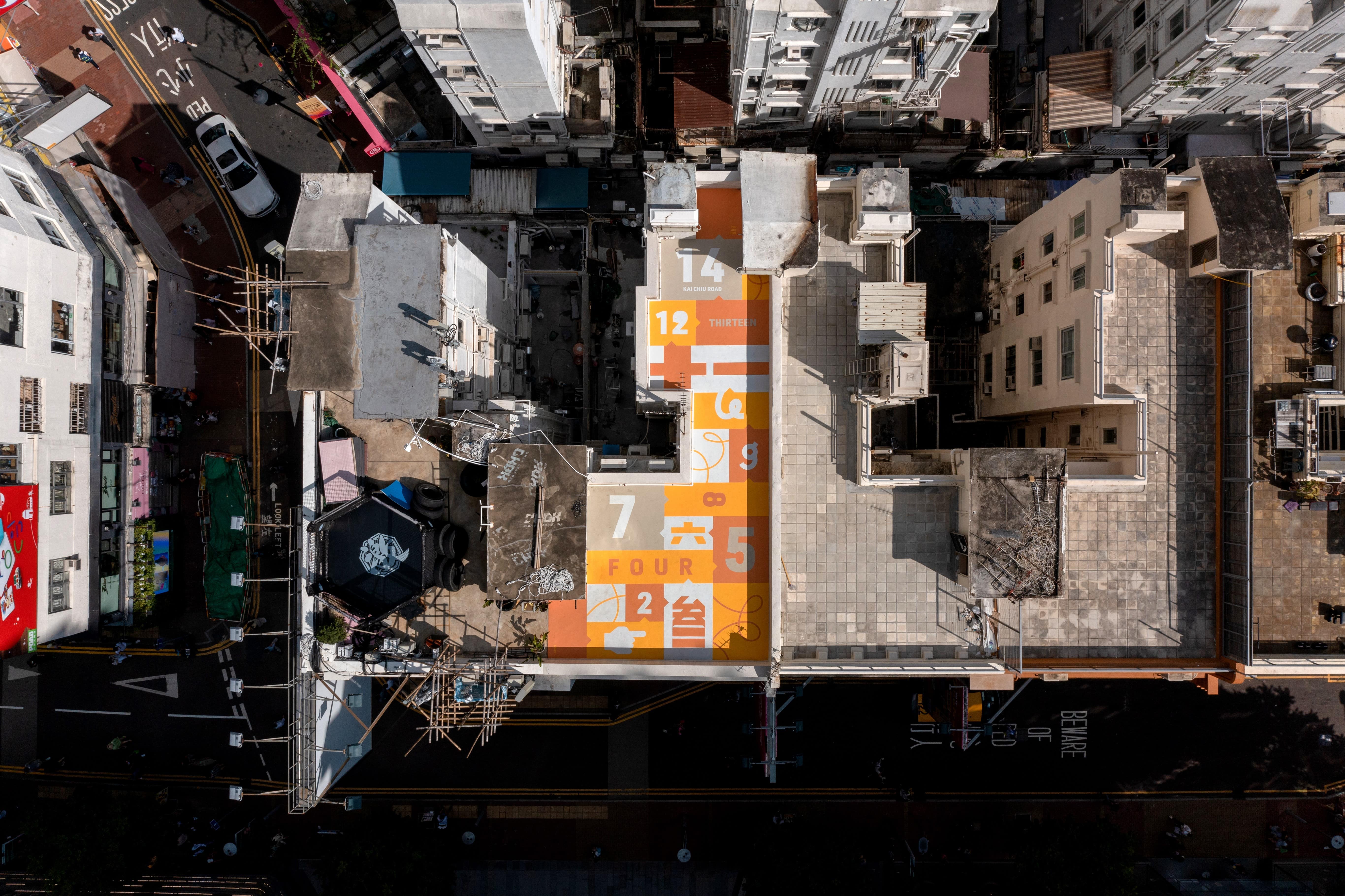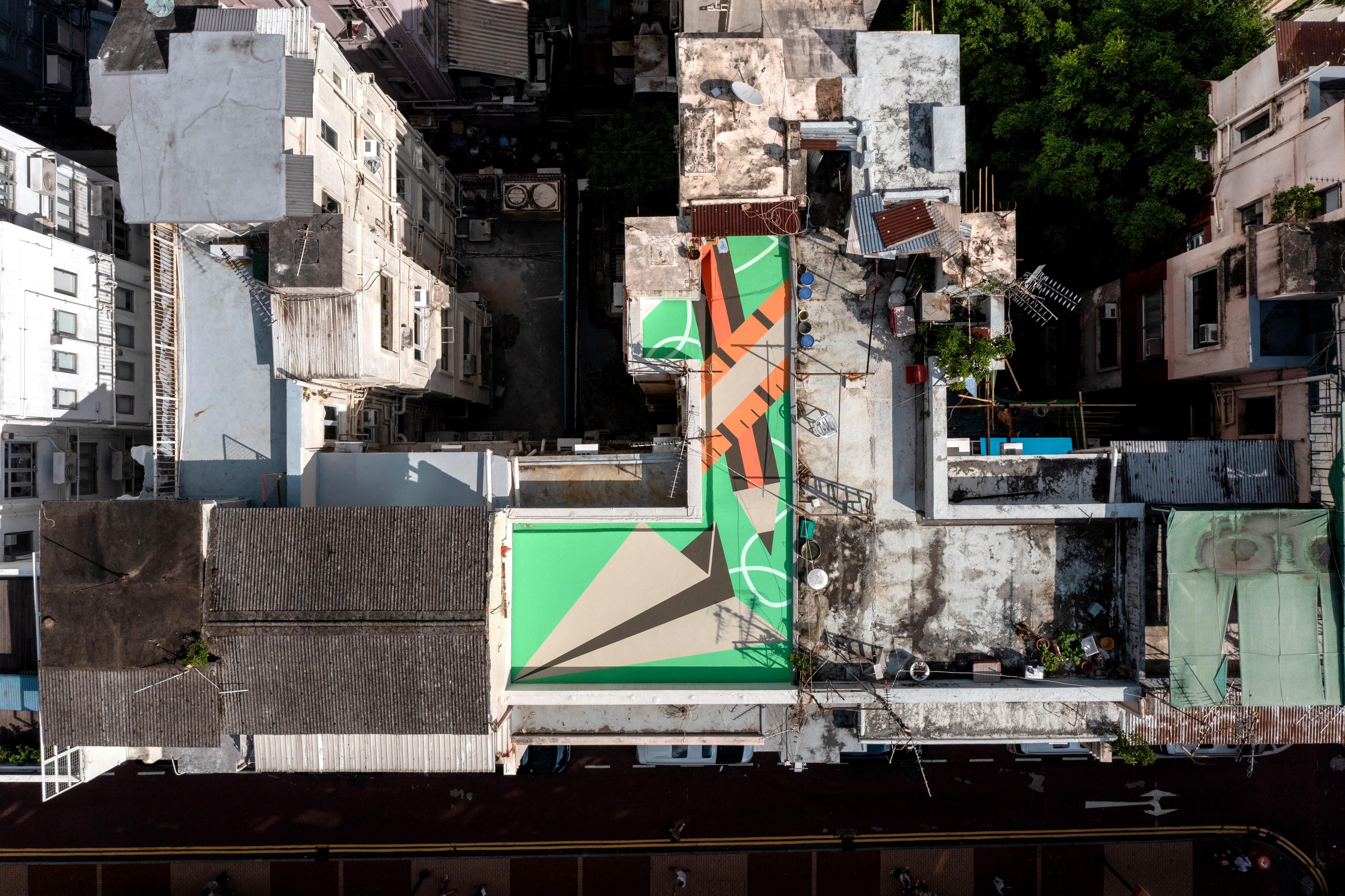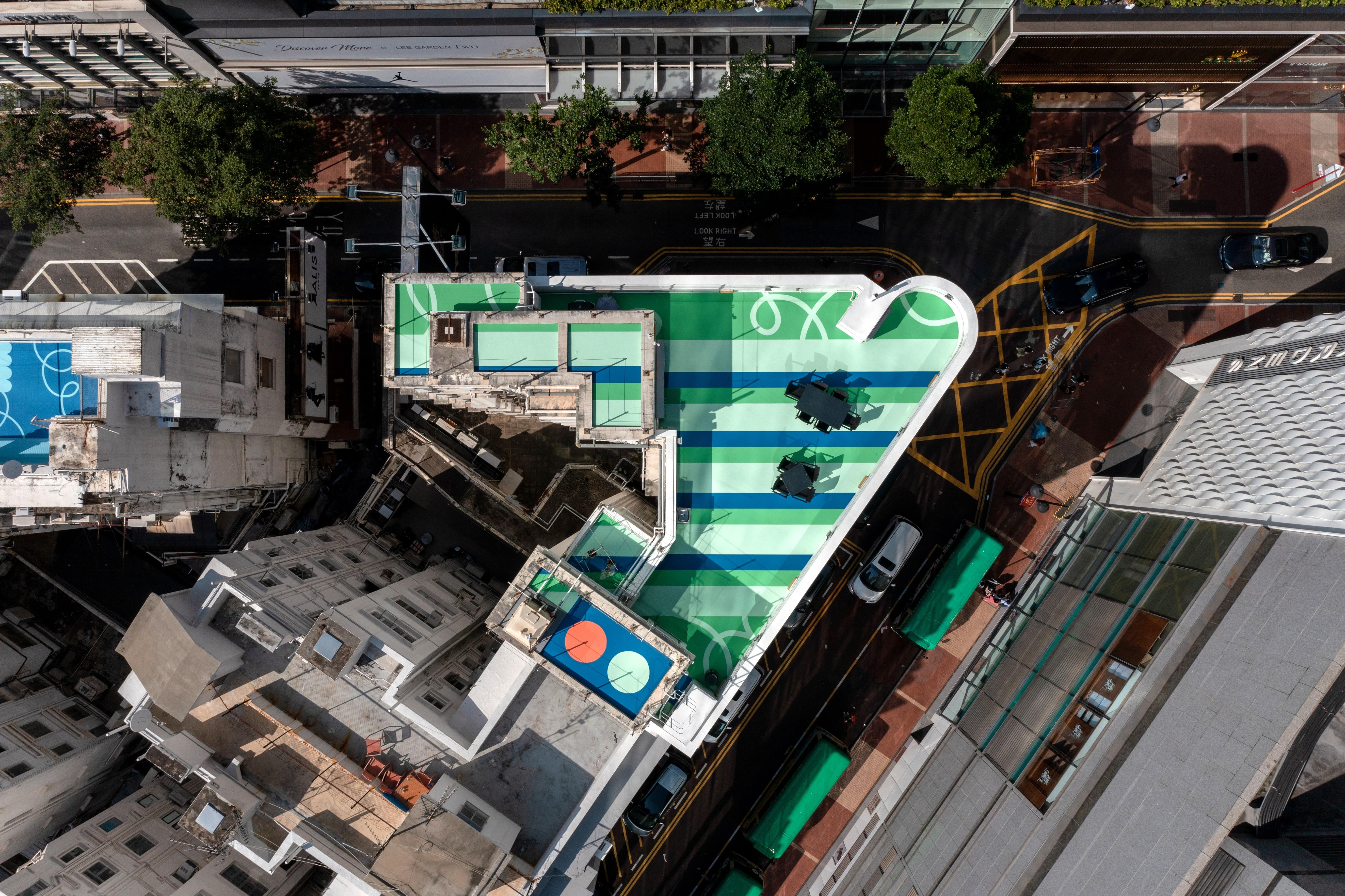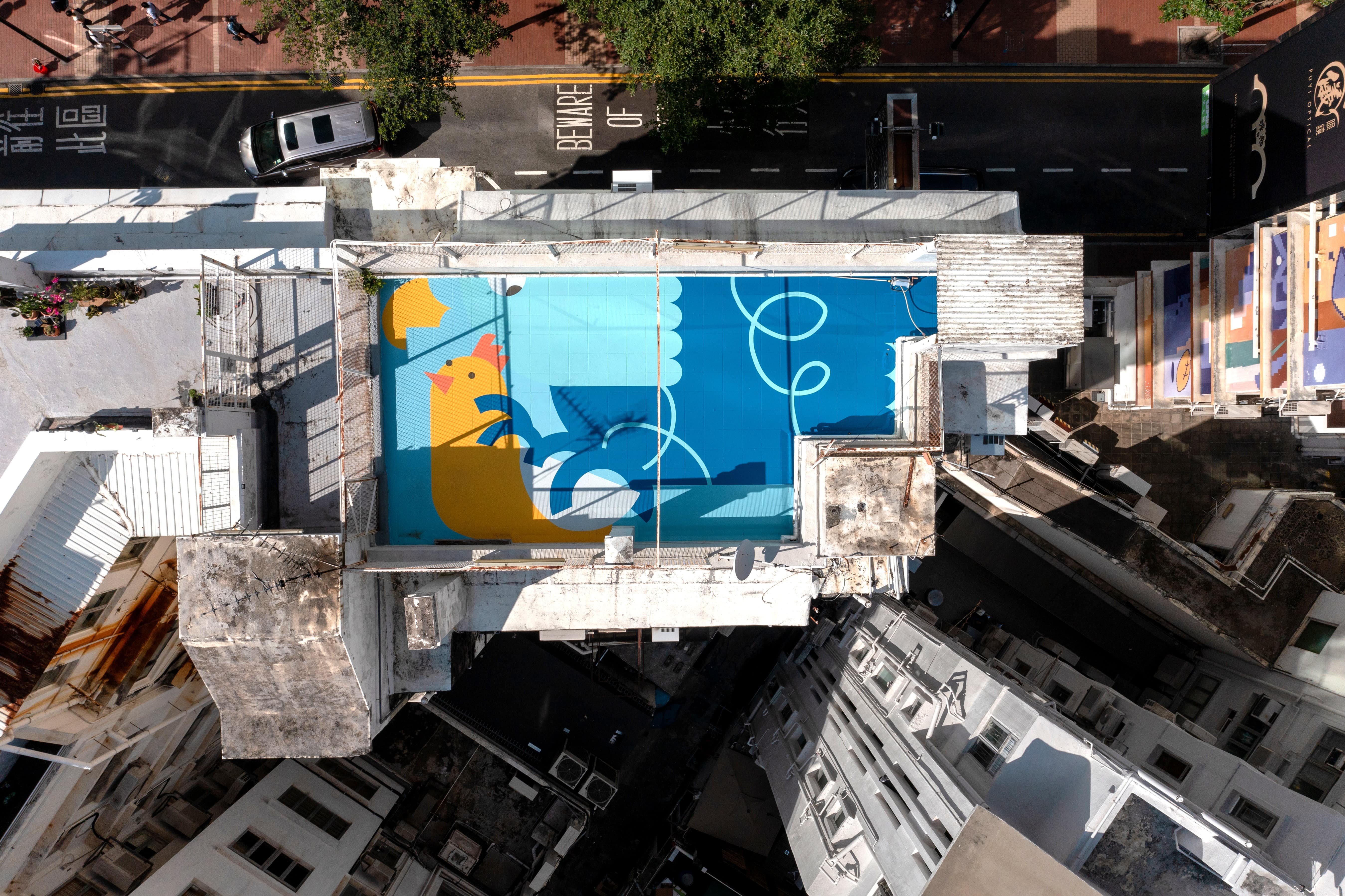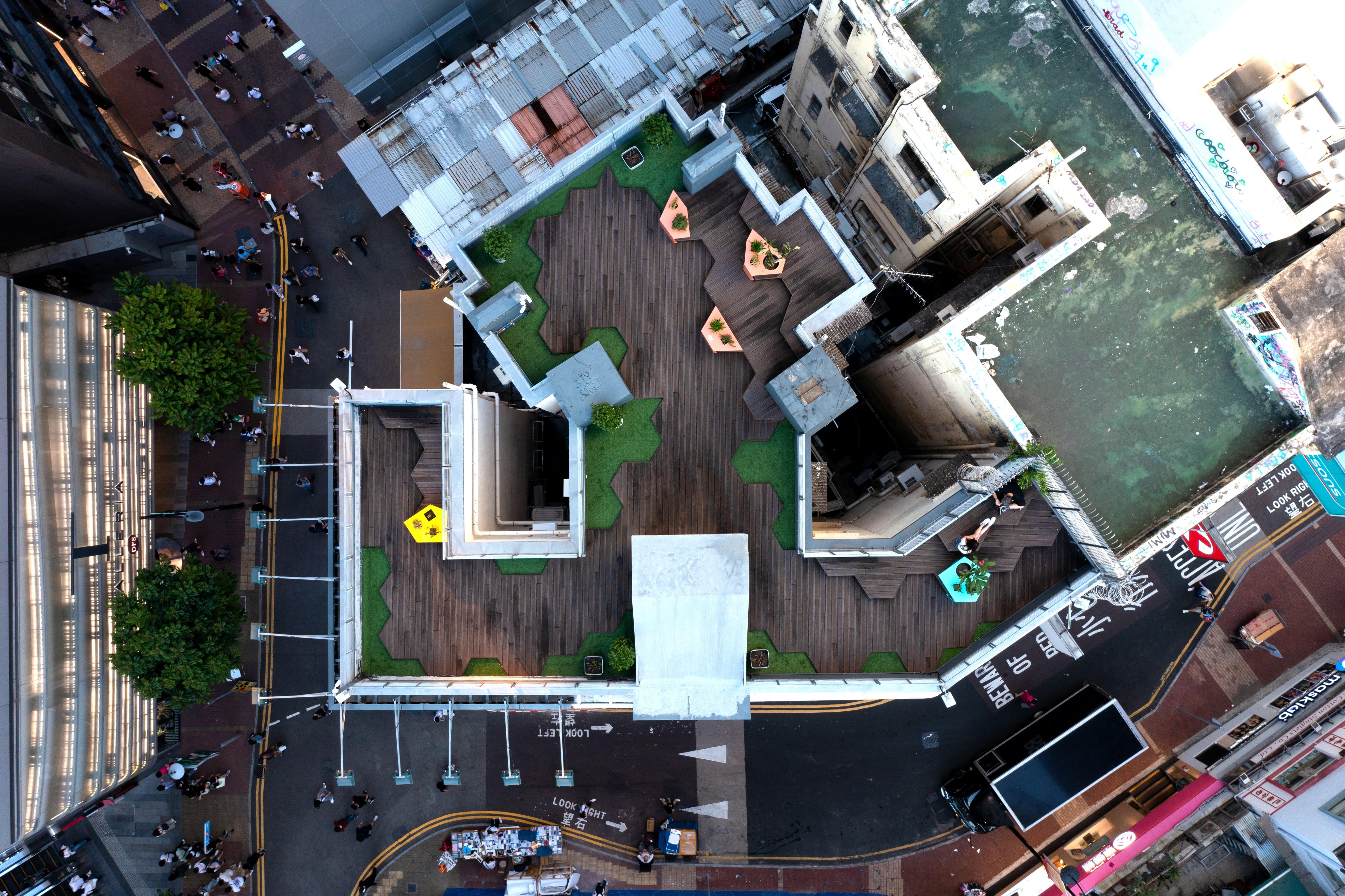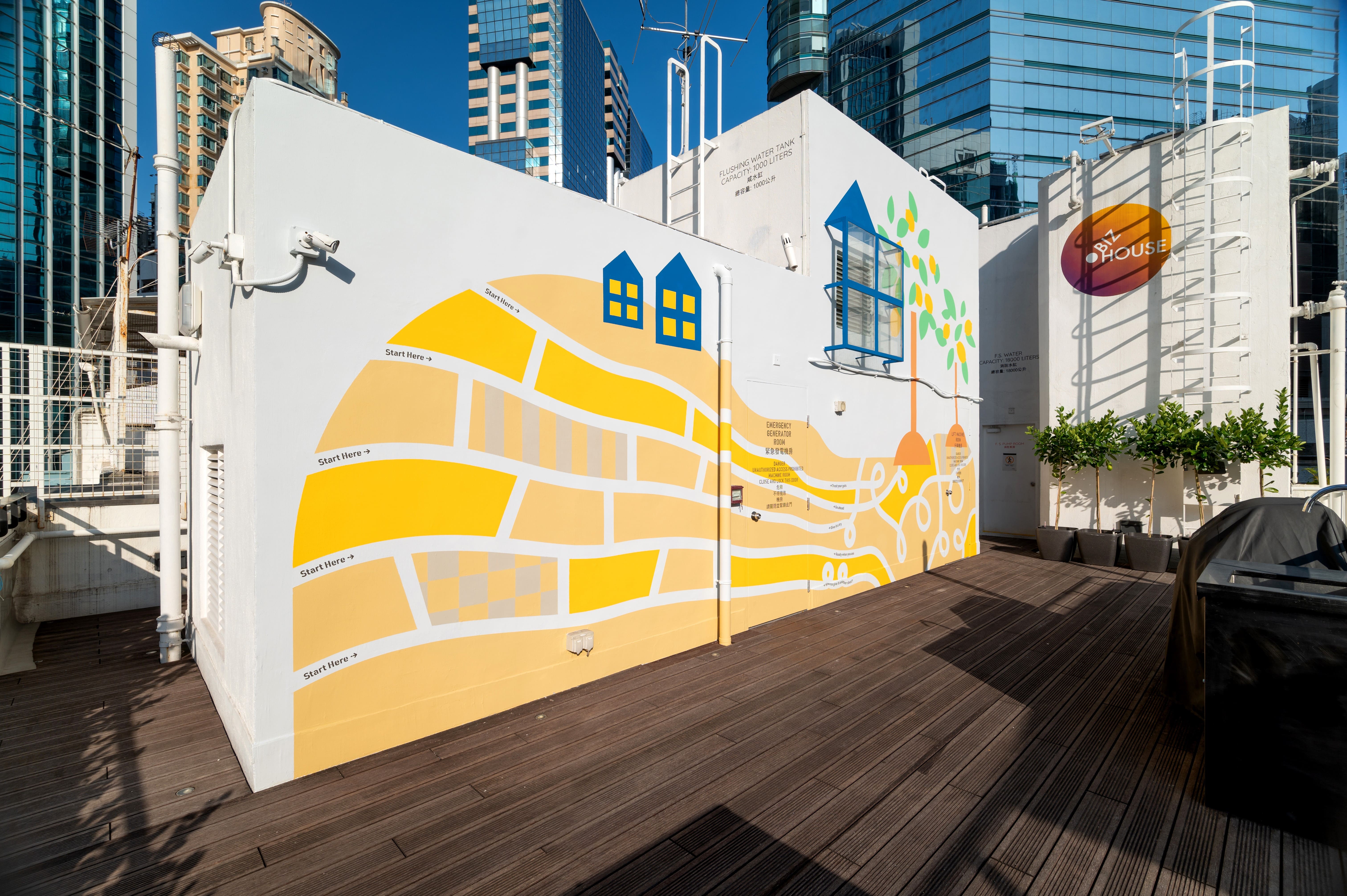 "Those who went to rooftop schools or played on rooftops are now seniors or at least parents. Seeing those images would bring back memories. Even if their children no long play these games, they can always tell them that was how life was like back then." These images also indirectly tell the stories of Hong Kong to foreigners who work or play in the area.
In addition, Alan has also transformed eight rooftops into relaxation spaces with outdoor seating, with fragrant plants like lemon trees, frangipani and rosemary. These rooftops, launched by the rooftop activation project, are scattered around the Lee Gardens area, and called gLEEful rooftops. Graphically, the rooftops are connected by curves.
"The curves spell 'Lee' as in Lee Gardens. They also symbolise lines that connect people," explained Alan.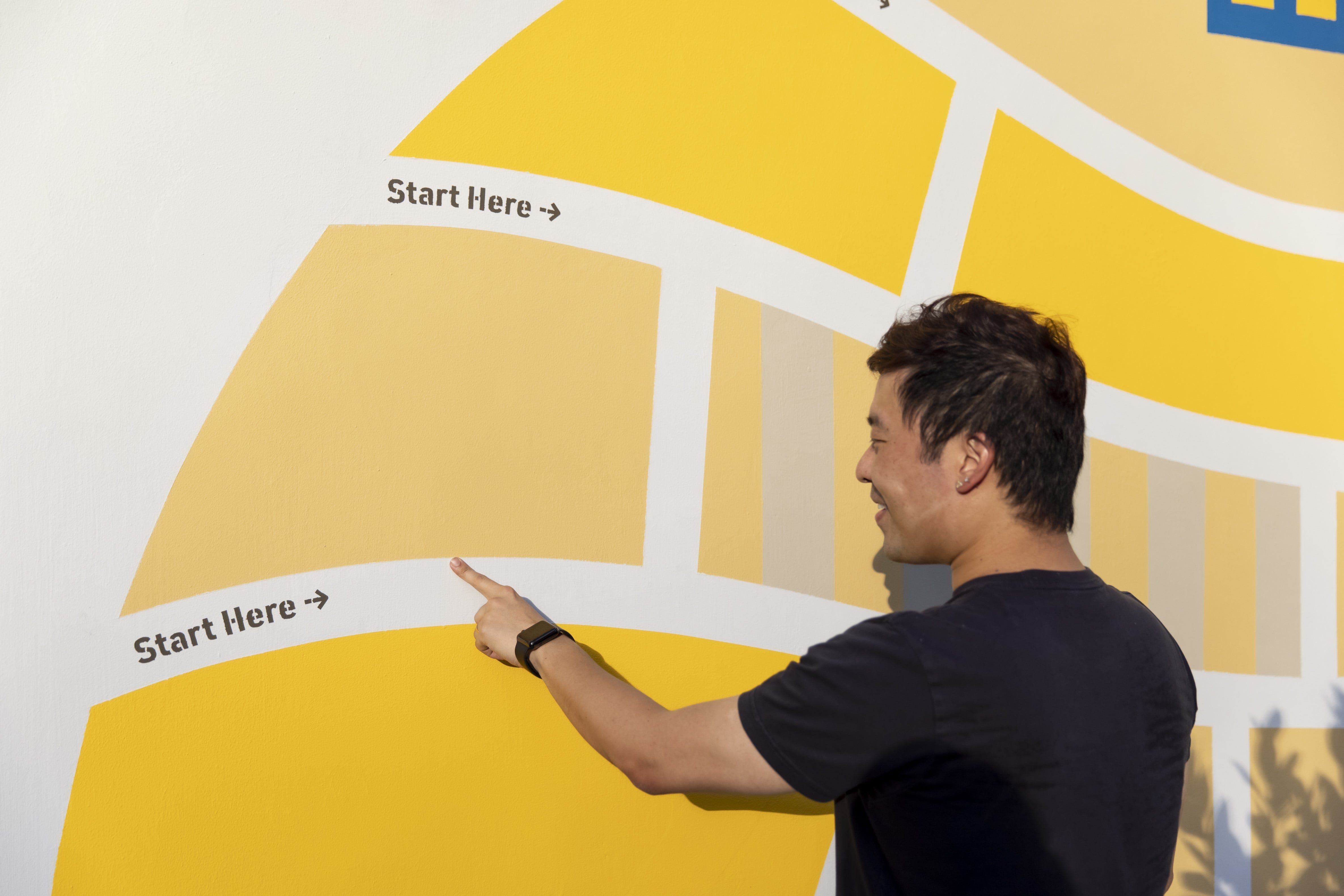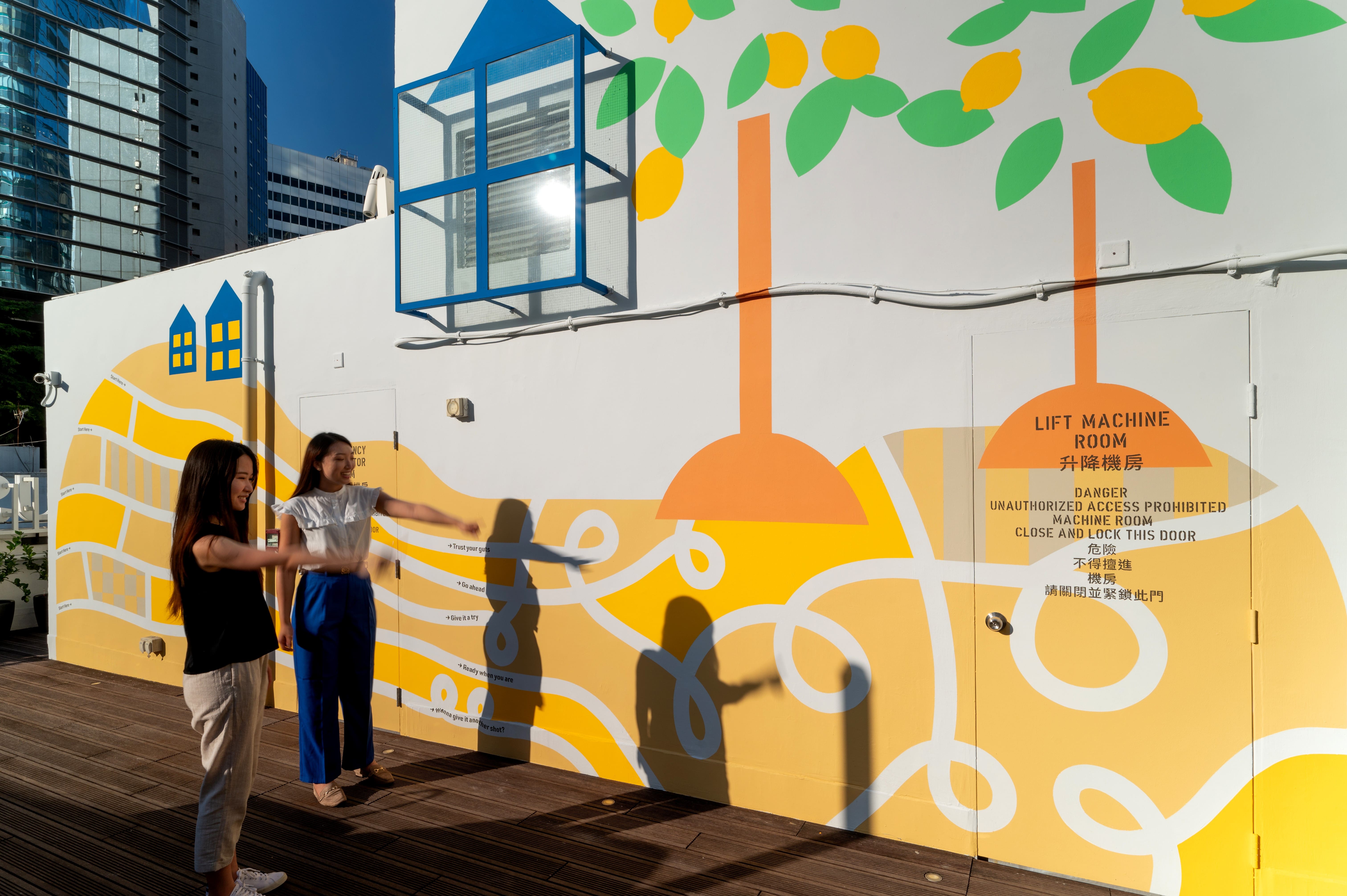 【A celebration of rooftop music】
---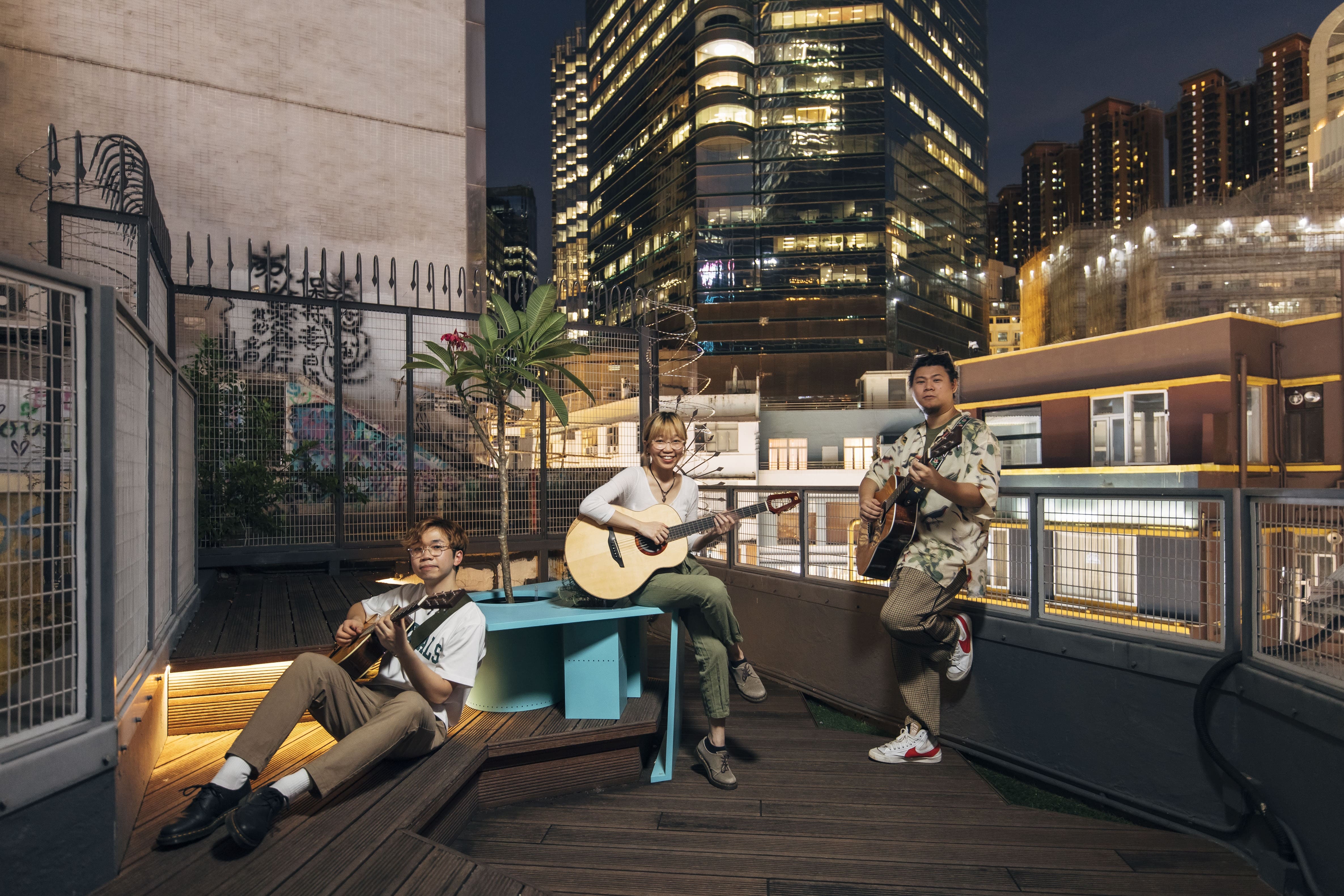 A space only has value because people's experiences give it meaning. For music lovers, rooftops are a place for sharing music. In the Lee Gardens area, you will soon be able to enjoy music floating from the gLEEful rooftops.
"It's a bit like busking as you can hear it just walking around. But it's from the rooftops so it feels unexpected." Artist Lili Forest said it reminds him of the Beatles' famous rooftop concert in 1969. "It was an impromptu concert. It might not have been the first but it was the most memorable. Everyone on the street and nearby buildings was trying to figure out where the music came from. It was so much fun."
He is very much looking forward to this music gig as he had never performed on a rooftop "Hong Kong does not have a lot of communal outdoor space since everything happens indoors–eating, shopping. So even if it's a small space, if you can feel the open air and interact with passers-by, that's worth it."
Lili Forest lives near a rooftop so it's a space he uses for play and relaxation. He is also familiar with Lee Gardens area where he is about to perform on a rooftop. "The vibe is different here. The buildings are not as tall, so it feels less cramped." His music often carries a hint of melancholy, appealing to Hong Kongers who are used to hide their feelings. "It'd be great if this can be an outlet for our emotions".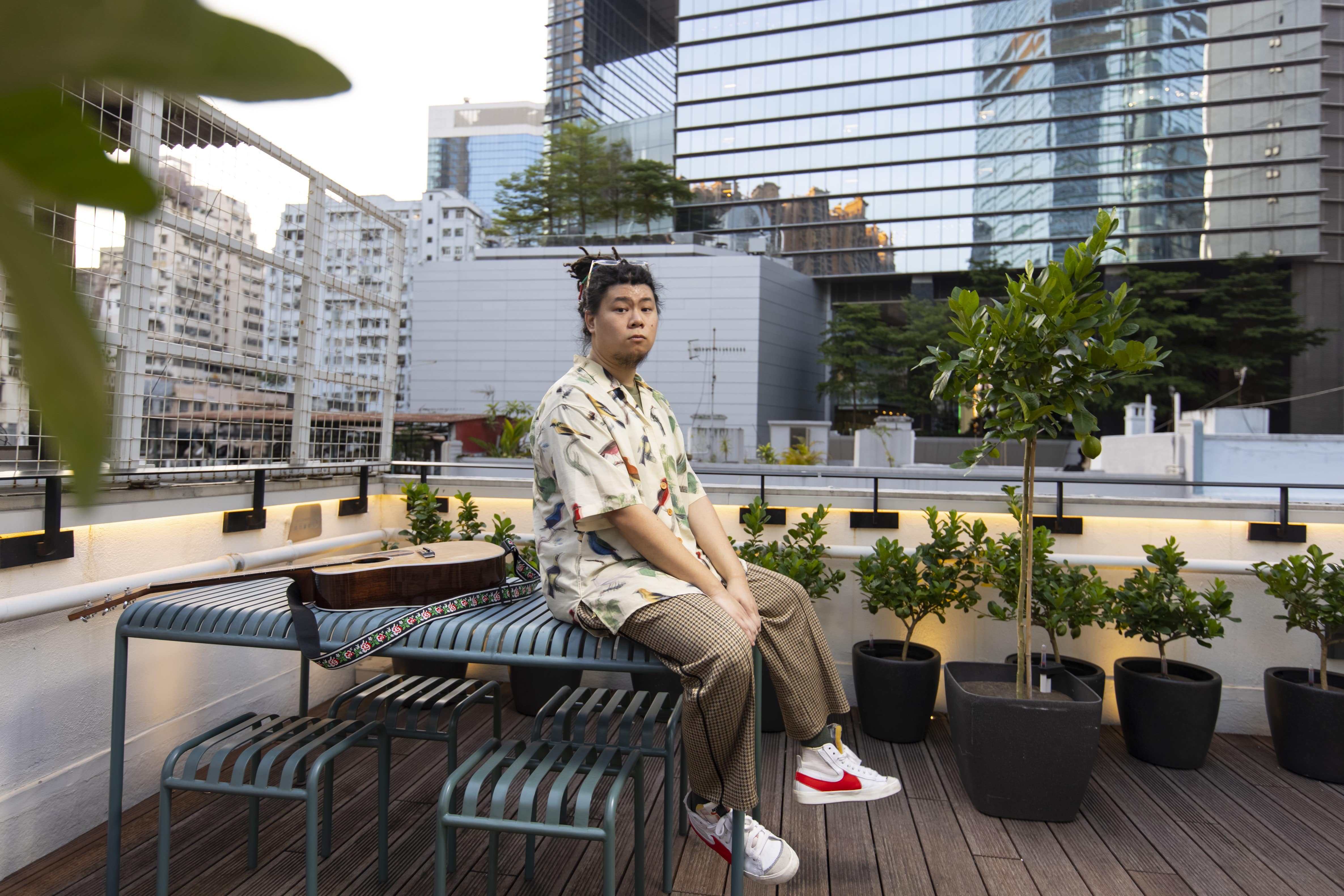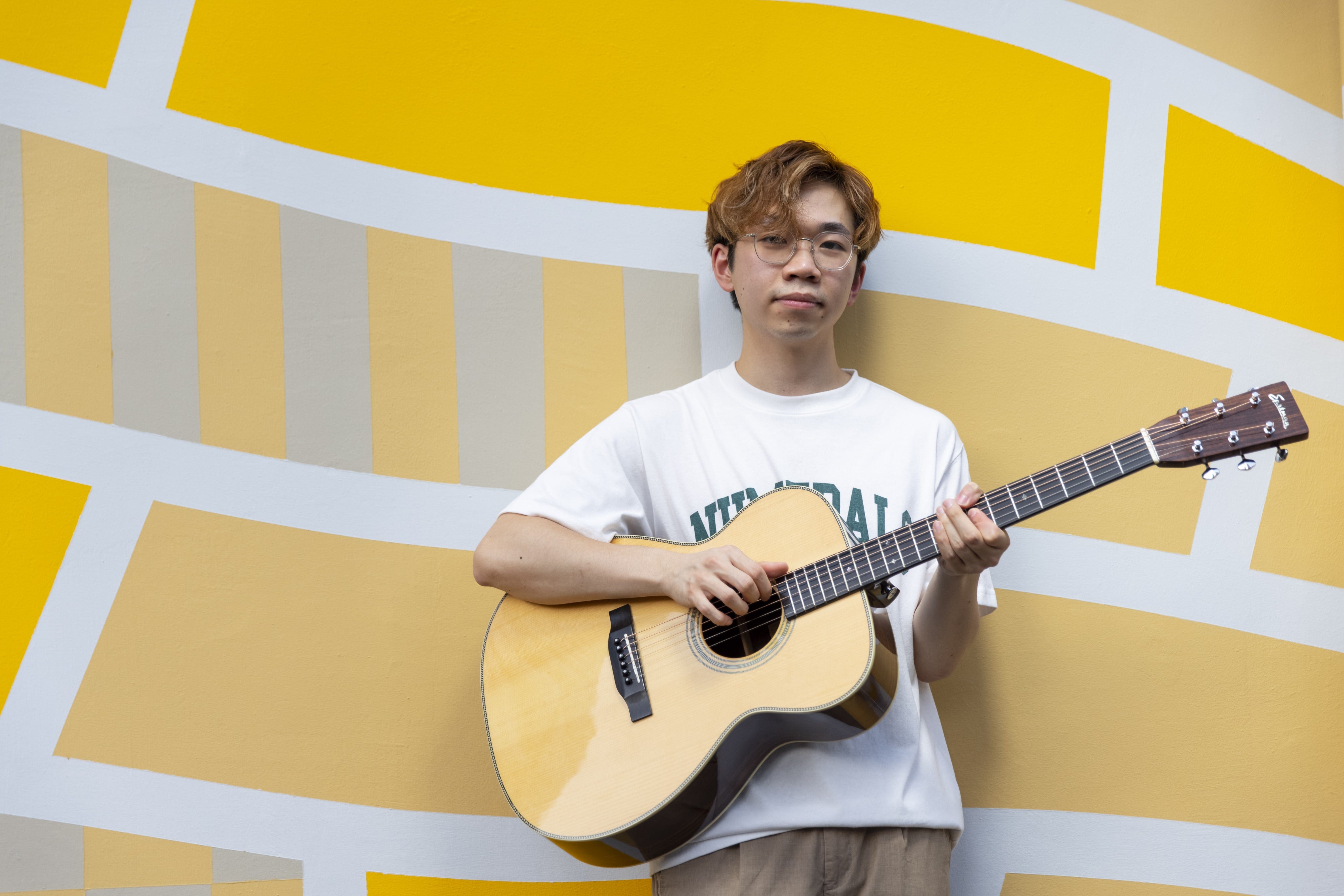 Daniel Toh is another singer-songwriter who will be participating in the rooftop concerts. He said the Lee Gardens area feels like an oasis. "Causeway Bay had always felt quite fantastical to me when I was a kid, with lots of busy shopping malls. But the Lee Gardens area is a lot less dense and even pedestrians seem to walk slower there. It feels more chill."
He has high expectations performing on a rooftop and looks forward to feeling the openness of the space. "Performing outdoors gives you a sense of freedom. You feel more relaxed and just enjoy the moment as you perform." He describes himself as an introvert who somehow likes to be seen. He hopes that busy office workers will be surprised when they hear the music as they get off work and feel refreshed. Then they will perhaps search online to find out who he is and start noticing his music.
"My music is about my own feelings. If someone like me can take the first step, maybe people who listen can take theirs as well."
It will not be singer-songwriter Gwenji Billie's first rooftop concert. But since the rooftops in the Lee Gardens area are close to other buildings, it makes her feel connected to people. "When I perform, I wonder if people nearby are listening to my music while going about their business." She will be singing relaxing ballads for her audience to slow down and enjoy the moment.
Gwenji is a nature lover and being on a rooftop makes her feel close to nature as you can look up and see the sky. "It reminds us that we should take a moment from our hectic lives and remember our own potential, and our connection with nature. We are as versatile as these rooftop spaces, with many possibilities. We can always try to think of a new way to put our lives to good use."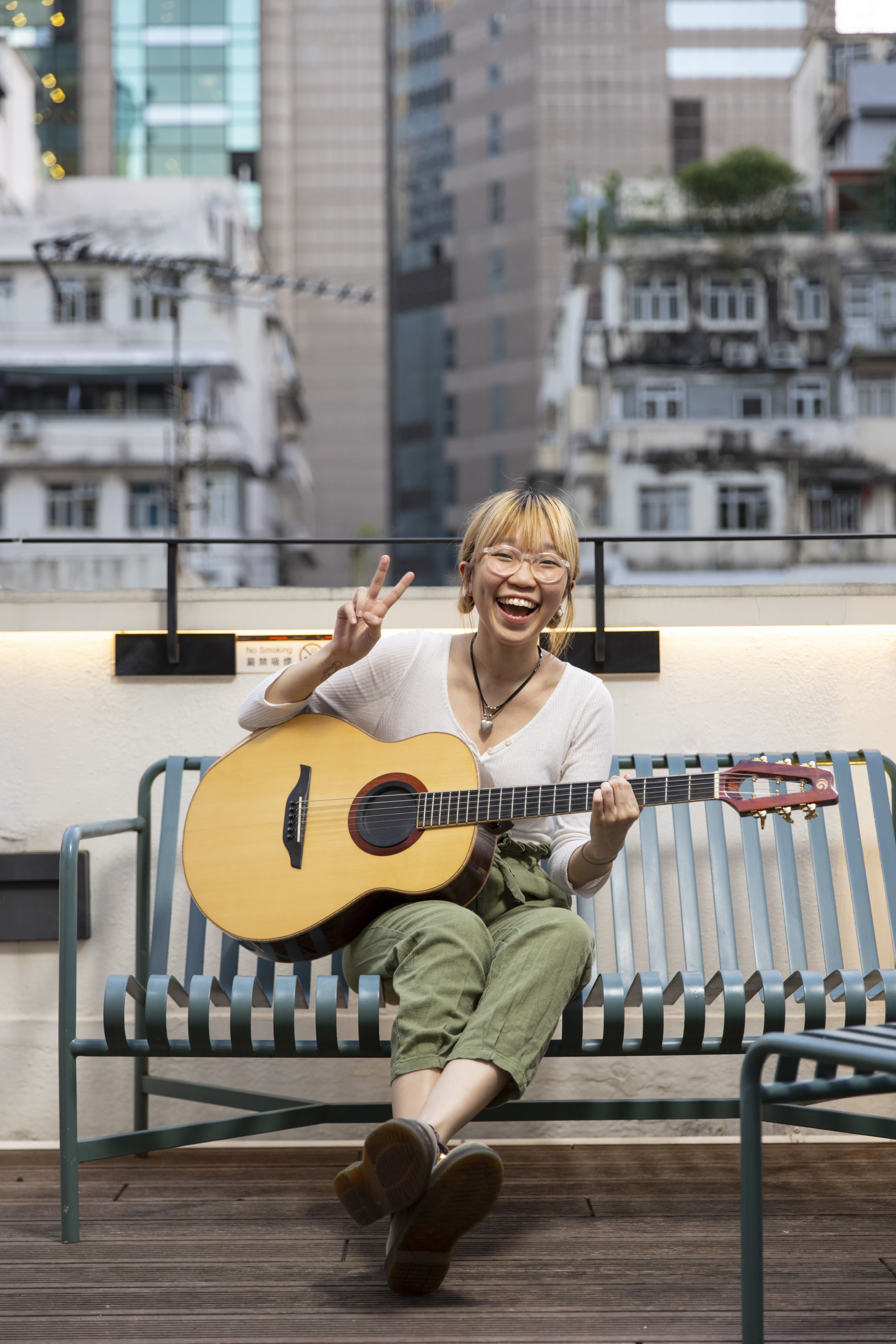 At the rooftop concerts, the music will flow freely from above. They are like invisible lines connecting passers-by and enriching their day. If you are one of the lucky ones who can witness this from a higher vantage point, you will see a scenery of people and the unique cityscape becoming one. Time to enjoy and live in the moment.